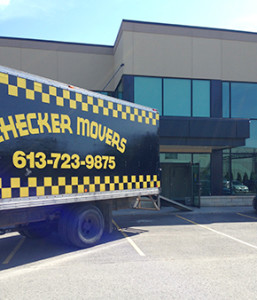 Looking for Commercial Moving Services in Ottawa? Then Checker Movers can help your businesses relocate with ease. Our team of experienced movers will work diligently to ensure that your business moves smoothly and without any interruptions. We understand the importance of a quick and seamless relocation, and we will do everything in our power to make sure that your move goes according to plan.
Why hire Checker Movers for your Commercial Moving Services? Here are 14 reasons to hire our team of professionals:
1- We have over 40 years of experience in the moving industry and have relocated businesses of all sizes.
2- We offer a free consultation to assess your specific needs and provide you with a customized quote.
3- We use state-of-the-art equipment and techniques to ensure a safe and efficient move.
4- We take pride in our work and will treat your belongings with the utmost care.
5- We are punctual and will work diligently to ensure that your move is completed on time.
6- We offer competitive rates and will work within your budget.
7- We are fully insured for your peace of mind.
8- We are registered with the Better Business Bureau and have an A+ rating.
9- We offer a wide range of commercial moving services, including office moves, warehouse moves, and more.
Relevant: See also: Piano Moving Services
10- We can provide you with storage solutions if you need to store your belongings during the move.
11- We offer a hassle-free moving experience and will take care of all the details for you.
12- We are dedicated to customer satisfaction and will go above and beyond to ensure that you are happy with our services.
13- We have a team of experienced and professional movers who will work hard to make your move a success.
14- We are passionate about what we do and take pride in helping businesses relocate.
If you're looking for a reliable and experienced team of movers to help relocate your business, then Checker Movers is a perfect choice. With our wide range of commercial moving services that are designed to meet your specific needs, plus our many years of experience in the moving industry, Checker Movers is your best bet for a successful move. Contact us today to schedule a free consultation and get started on planning your business's relocation.